HG326UGG Gpon Top factory ONU Telecommunication Equipment
V-Solution HGU (Home Gateway Unit) series
| | | | |
| --- | --- | --- | --- |
| Product | EPON ONU Function | Product | GPON ONU Function |
| HG323UE | 1EPON+2FE+1POTS | HG323UG | 1GPON+2FE+1POTS |
| HG323EW | 1EPON+2GE+1POTS+WiFi | HG323GW | 1GPON+2GE+1POTS+WiFi |
| HG326UEG | 1EPON+4GE+2POTS+WiFi+USB | HG326UGG | 1GPON+4GE+2POTS+WiFi+USB |
| V2804EW | 1EPON+4GE+WiFi | V2804GW | 1GPON+4GE+WiFi |
| V2800EW | 1EPON+4GE+2POTS+WiFi+CATV | V2800GW | 1GPON+4GE+2POTS+WiFi+CATV |
| HG324E | 1EPON+4GE+2POTS | HG324G | 1GPON+4GE+2POTS |
GPON ONT/HGU HG326UGG is designed for fulfilling FTTH (Fiber To The Home) and triple play service demand of fixed network operators. It is developed wholly by Guangzhou V-Solution. The box is based on the mature Gigabit GPON technology, which has high ratio of performance to price, and the technology of 802.11n WiFi (2T2R), Layer 2&3 and high quality VoIP as well. It is highly reliable and easy to maintain, with guaranteed QOS for different service. And It is fully compliant with technical regulations such as ITU-T G.984.x and technical requirement of GPON Equipment (V2.1 and above version) from China Telecom.
Technical items

Descriptions

Chipsets

BCM68380F

Optical interface

1 GPON interface, SC single-mode/single-fiber, Downstream rate 2.5Gbps, Upstream rate 1.25Gbps

Optical Wavelength

Tx 1310nm, Rx 1490nm

Optical interface

SC/PC

RX sensitivity

< -25dBm @ 1490nm

WLAN

Compliant with IEEE802.11b/g/n, 300Mbps, 2T2R

one internal antenna and one external antenna

WLAN throughput

100Mbps @ 40users, 1518bytes, no-encryption

107Mbps @ 40users, 512bytes, encryption

LAN interface

4*10/100/1000Mbps

Auto adaptive Ethernet interfaces, Full/Half Duplex, RJ45 connectors

Router throughput

Upstream: >390Mbps @ 1518bytes, Downstream: >390Mbps @ 1522bytes

POTS interface

2 FXS, RJ11 connectors

Indicators

14 indicators

DC power supply

[email protected], external AC-DC power adaptor

Button

RST, Power, WiFi, WPS, Pair

Power consumption

≤ 10W

Operating condition

Operating temp: -5 ~ +55℃,Operating humidity: 10~90% (non-condensed)

Storing condition

Storing temp: -30 ~ +60℃,Storing humidity:10~90%(non-condensed)

Dimension

205mm*138mm*50mm(length*width*height)

Net weight

0.4Kg
Special features
l Plug and play, integrated auto detecting, auto configuration, and auto firmware upgrade technology.
l Integrated OMCI and TR069 remote configuration and maintenance function.
l Support rich QinQ VLAN, DHCP Server/Relay and IGMP/MLD snooping multicast feature.
l Support fiber transceiver diagnostic monitoring, fiber transmitter disable remotely.
l Fully compatibility with OLT based on Broadcom chipset etc.
l Support 802.11n WiFi (2T2R) function.
l Support NAT, Firewall function.
l Support IPv4 and IPv6 dual stack.
l Integrated line testing compliant with GR-909 on POTS.
l The WAN port supports bridge, router and bridge/router mixed mode.
Data Service Functions
1) Full speed non-blocking switching.
2) 2048 MAC address table.
3) 64 full range 4095 VLAN ID
4) Support VLAN QinQ, transparent, tag, translation, trunk, etc.
5) Integrated port monitoring, port mirroring, port rate limiting, port SLA, etc.
6) Support auto polarity detection of Ethernet ports (AUTO MDIX).
7) Integrated IEEE802.1p QoS with four level priority queues.
8) Support IPv4 IGMP snooping and IPv6 MLD snooping.
9) Support bridging, router and bridging/router mixed mode.
POTS Service Functions
1) Call protocol: SIP (IMS compatible), seamless compatible with all popular call agent.
2) Integrate heartbeat function and support active/standby call agent.
3) Voice coding: ITU-T G.711/G.723.1(5.3K/6.3Kbit/s)/G.729, auto-negotiate with call agent.
4) Echo cancellation exceeding ITU-T G.165/G.168-2002, up to 128ms tail length.
5) Support high/low speed fax/Modem, bypass fax, and T38 fax.
6) Support RFC2833 and redundant RFC2833, difference rings, MD5 authentication, call forward, call waiting, hot-line call, alarm clock, and all kinds of value-added voice service.
7) Multi-party conferencing.
8) Line testing according to GR-909.
9) IP address assignment: dynamic PPPoE/DHCP Client and static IP.
10) Support WEB, CLI, TR069.
11) Integrated OAM, XML, DHCP option 66 & 67 for auto configuration and firmware upgrade.
12) Call loss is less than 0.01%.
WiFi service
1) Integrated 802.11b/g/n, 300Mbps, 2T2R.
2) Support 128 connections.
3) Support WEP and WPA/WPA2 security protocols.
Application chart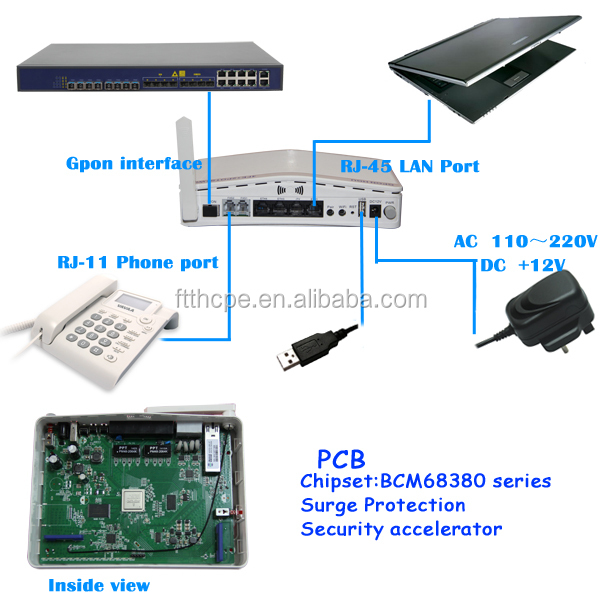 Packaging & Shipping
1. Shipping:We have strong cooperation with DHL, TNT, UPS, FEDEX, EMS .
2. Packaging: standard carton which suitable for air/ sea transportation.
Similar products
VOIP Gateway:
EPON ONU:

GPON ONU

EPON OLT

We have more......
Add my skype:vs-sales07 for more products and best price!
Company Information
V-SOLUTION Telecommunication Technology Co., Ltd is a leading and professional telecom manufacturer located in Guangzhou, China. We specialize in researching, producing and exporting GPON ONT, EPON ONU, EPON OLT, VoIP Gateway, Fiber CPE, Wifi Module, PLC Module, providing the most stable telecom solutions.
Our service:
1. MOQ: No MOQ for your sample order and from your second, the MOQ is only 10pcs.
2. Payment terms: T/T, Western Union, L/C and Paypal.
3. OEM FREE: Print your brand, put your model numbers in the stickers and make your box.
4. Warranty: One years for PON Products/ Voip Gateway/Fiber CPE.
5. ODM accepted and welcomed.
Why us:
1. TOP&Biggest Telecom manufacturer in China
2. China High Technology Enterprises
3. 7 years research and export experience
4. Response within 12 hours
5.7-10 days delivery Guarantee
6. VIP customers'preferential policy
7. SMT ROOM &Housing ROOM&Mould ROOM do as you requested
R&D, Testing Devices